Get ready to VIBE. This September 8th, 2023, breakthrough Nigerian-born AfroPop and R&B artist DAVY SAGE is dropping his new afro beats-R&B single ' Lòké' (meaning 'Up' in Yoruba, a Nigerian language). You'll be singing along to the second chorus.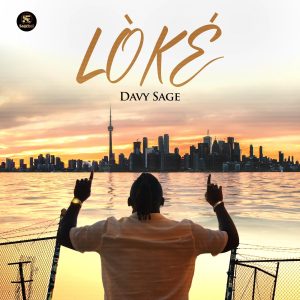 Bringing positive energy, upbeat rhythm, and bassy afro beats, ' Lòké ' features Davy Sage's melodic, half-sung/half-rapped vocals masterfully blending English and Yoruba.
The song's lyrics explore the message that no matter how hard or strongly you hustle, it's God's blessing that crowns your effort and keeps protecting you out there in the streets. The multi-hyphenate artist reflects: "I had nothing when I moved my family to Toronto. I was full of doubt, but 2 years later, I opened my first restaurant with my partner. God blessed me." (DAVY SAGE )
Releasing on all digital streaming platforms, the afrobeat and R&B fusion hit is a gratitude anthem inspired by Davy Sage's personal experiences of life, hustling, success, and lessons learned as an entrepreneur, father, and explorer.
"This track is a gratitude anthem for all the dream chasers out there not giving up even through their challenges. I reference my hard work in my verse 'Every day on my grind / Many nights on the road / But we never back down through highs and the lows.'"
— DAVY SAGE (SONGWRITER/PERFORMER)
Recorded at Davy Sage's home studio in Toronto, ' Lòké' was mixed and mastered by Nigerian sound engineer Doktor Santi (1717 Mixing Studio), and produced by Nigerian producer Executive Scott. Both collaborators worked with Davy Sage on his recently released EP, ' Energy '. Prior to the ' Energy' EP, Sage's successful singles ' Hold Me ' and ' Temptation ' appeared on editorial playlists on streaming platforms Spotify and Deezer.
The single artwork was shot by Toronto-based photographer Steve Medeiros, with art direction by Nigerian graphic designer Hassan Nasir ( @nasplanet ).
Lòké (Up) by Davy Sage is available from September 8th, 2023. Listen here.